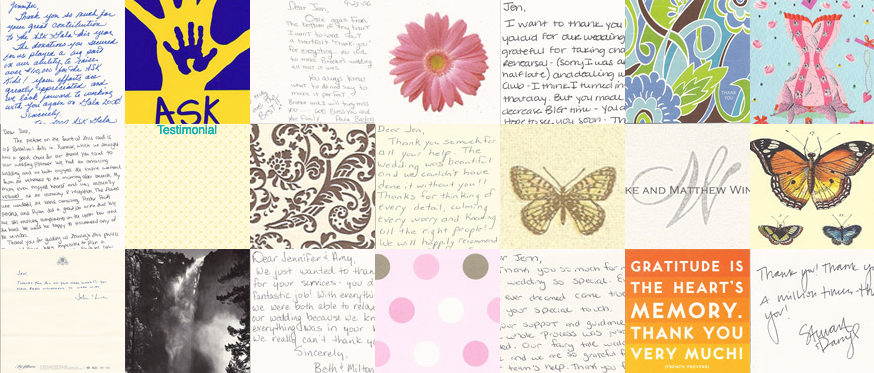 Thank you very much for coordinating our wedding on December 13th. You helped to alleviate the burden and headache of planning our wedding; even down to the fine intricate details. The entire process ran very smoothly due to your help, time and expertise. You also paid a tremendous amount of attention to us and our requests; we could not be more thankful! Our friends and family still comment on our wedding and reception and how organized, well planned, and beautiful it was. Thank you again for all your help; we could not have done with without you!
George & Hollie
Advertisement
| | | |
| --- | --- | --- |
| | EasternHoneys | |
| | La Date | |
| | JollyRomance | |
| | AsianMelodies | |
| | LoveFort | |
| | CuteAsianWoman | |
---
---
Just a quick note to thank you again for ALL your hard work and time. You are just amazing! I honestly don't know what we would have done without you. We were so impressed with how well organized everything was and how everything flowed so beautifully. Lauren felt so confident and relaxed because of you. Your patience, hard work, and kindness are deeply appreciated.
Thanks again for a truly wonderful experience. Enjoy the rest of your summer…
Many thanks,
Lisa
---
---
I just wanted to say thank you for the fantastic job you did with Kate's wedding. Everything was absolutely perfect and went off without a hitch! You just did an amazing job! Thanks you so much for making such an important day for us just perfect!
Sally
---
---
Thank you for all your hard work in coordinating our wedding. We enjoyed every minute of it and couldn't have been happier! Thank you for the attention to detail & making the day so special!
Best,
Jason & Svetlana Raab
---
---
Words cannot express my appreciation for all you did to help make Becky & Chris' wedding such a memorable time; and for making it a fun process for me! Being able to hand things off that were so complicated (like transportation & rentals!) was a lifesaver. Even beyond, you were my calming voice, my cheerleader, and my chief advisor. We worked well together and had fun. What a blessing! Please stay in touch and call me when you need help or have a wild idea!
Love,
Diana
---
---
Thank you for all of your help during this process. You were wonderful to work with! You were fun & knew how to calm us (ok, mostly me!) down.
Thanks Again,
Neena & Bapu
---
---
We just wanted to say how grateful we were to have you there to make our wedding day so beautiful! Not only did you do an amazing job, but kept me calm and mom under control which is a hard feat!
Thank You So much!
Tracey & Allen
---
---
I just wanted to thank you for the wonderful job you did in helping to make Caitlyn's wedding day so beautiful and special.  Knowing that you were in charge allowed me to relax and enjoy the reception as if I were a guest.  The wedding could not have gone more smoothly and I really appreciate the part you played in making that happen.  Everything went along as it should at the church as well as the reception, and the little "hitch" at the end of the evening was resolved quickly and efficiently.  Everyone also commented on the lovely table linens!  I'm relieved that the wedding is over, but sad at the same time.  I'll miss talking to you, but I have another daughter, so you never know when we'll meet again!
Until then take care and thanks for helping to make this the wedding of Caitlyn's (and her mom's!) dreams.
Sincerely,
Carol Hofer